Efficient. Productive.
The Trinity Desktop Environment (TDE) project is a computer desktop environment for Unix-like operating systems with a primary goal of retaining the function and form of traditional desktop computers.

Latest News
2014.11.19: TDE R14.0.0 Release Candidate 1 (RC1) is now available for download!

R14 has been over 2 years in development. This delay has allowed us to create a better, more feature-rich and more stable product than previous TDE releases. R14 is brimming with new features, such as a new hardware manager based on udev (HAL is no longer required), full network-manager 0.9 support, a brand new compositor, built-in threading support, and much more!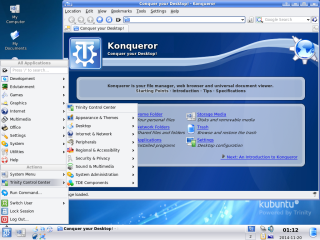 © 2011-2014 Trinity Desktop Project